February 3rd, 2018
Innovation: Contemporary technological, scientific, and political explosions can unleash fresh awareness of who and what we are, " Great things never came from comfort zones." Right? For example, how might artists (and all of us for that matter) respond at this moment so ripe for combining threads of old wisdom with other/newer influences? Might they (we) weave an tapestry of innovation?

Influences: Nature may be one source of beauty and inspiration. Certainly, my designs rely on this generous teacher. There to see are elements of balance...of light and dark... of birth and death... of blooming and withering...and of pure possibility. (I am drawn for inspiration to art glass, in particular the gorgeous work of Emile Gallé, as you may note in this graphic.)

There too is the relationship between time and space at the edges of color where inspiration meets the creative expression of the human kind. (Mine are as diverse as the Fauvists, Henri Matisse and Toulouse Lautrec, and a few comic book artists such as Steve Ditko.)

Zsanan Studio Notes INFLUENCES

February 3rd, 2018
You can turn your ideas into reality EASILY at Fine Art America.Let's say that you pick "ROYAL PURPLE" (image here is one of the most "loved") to make into a canvas or print or fabric for your friend (or you.) So, you find yourself at the general /direct link for "Royal Purple" the image you like. Now what? NOTICE to your right the list of design possibilities from "Wall Decor" to "Greeting Cards" and more? Go to that list. Use the little arrows to expand the options. Now you are ready to start turning ideas into real gifts, like in mugs, or shower curtains, or weekender totes, or yoga mats, or very nice greeting cards.... HERE'S HOW: Simply select options from the list on your right .


One of the most popular items fulfilled here is the boxed set of 10 cards (they are only about $3.70 per card!) It's exciting to hear back that you
have been impressed with the QUALITY. By the way, that very quality is why I chose Fine Art America as my fulfillment resource. As an EXAMPLE, Turn your ideas into reality as YOU size and frame the card to your own specifications. Copy and past this link into your browser window to see how it comes together for you.
.
https://zsanan-narrin.pixels.com/products/royal-purple-zsanan-narrin-greeting-card.html

Now, SCROLL DOWN when you get to a link, so you can see how the image looks as a tote bag or a mug or a notebook...etc. SO interested to know what you think about all of this. You can contact me at the "Contact" button.

Zsanan Studio Notes: HOW TO

January 30th, 2018
HENRI MATISSE SPEAKS INTERIOR DESIGN. At least that is what many of my clients tell me. If you are a person who follows or is interested in trends in interior design, like my clients, you may also notice a definite nod to the pursuit of and expression of design elements characterized by solid patches of color and clearly defined forms.

Again, many of my clients tell me that this design style works well across generations because it brings into focus themes and images of personal symbolism. So, I like to think that this trend is reminiscent of the work of famous Post-Impressionist/Fauve artist Henri Matisse. he lives on in his (and now our) willingness to , " sink their individual identities into what became a prolonged meditation on art and life, space, time, perception and the nature of reality itself. " Hilary Spurling, Matisse the Master.

As we begin 2018, I am creating a new series (see web link) in honor of Matisse. HEARTS & FLOWERS! I'd love to have your feedback.

Zsanan Studio Notes

P.S. If you love FAUVE as much as I do, check out the gallery on the home page (it's Matisse inspired!)
January 30th, 2018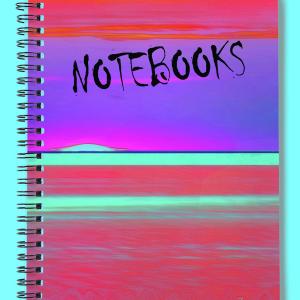 COLOR in theory...and in real life. I hope you enjoy visiting my blog and website where I try to pay attention to COLOR...both in theory and as an expression of life as we know it. Lately, I've been taking notes on the unfolding of an idea I've been working on for many years. That idea: COLOR is central to the expression of emotion. I design images from abstract to impressionistic and then extrapolate on that image using mixed media techniques and a wide range of color palettes.It's a way of gaining perspective you may find intriguing. Each week I work on a series to express a sentiment...whether that be gratitude or personal challenges.

Zsanan Studio Notes, COLOR

P.S. Pick up a notebook for yourself or someone who'd appreciate the unique design(s)
January 30th, 2018
HAPPY HOLIDAYS..with Polonius the CAT! .It's that time of the year when we gather ' round the tree to celebrate. Wishing family and friends happy holidays..."may your days be merry and bright"...seems the perfect gesture. But..wait a minute! Who's that in our shining tree? Polonius the Cat (seen here in hiding) may have mischief on his mind. YOU may be able already to imagine the commotion that Polonius is about to unleash.

This graphic from Zsanan is part of the POLONIUS THE CAT series. Follow him as he makes his way around the calendar and you may find a treasure trove of delight. And yes, this may be one of our favorite cards for the season.

P.S, > Don't forget the DOGS
January 30th, 2018
DOGS light up so many lives. Dogs may be the perfect way to brighten someone's day in a simple way...with a card or mug like this. A furry companion is dropping by in the form of a card ...to say "Have a Colorful Day"... might be the answer. After all, as George Lakoff states, " ...empathy allows us to comprehend our connection to each other, to other living things, and to the physical world that supports life?

And what better way to share your caring than in a simple gesture. When I read a pet-loving friend's account of her dog's daily ritual, "He comes and puts his face in my face at 6:00 am , and I wondered who told him about daylight savings time and to wake me up an hour early on my vacation the last two mornings?" ...I had to smile out loud. So I asked if I could create a digital portrait of the scene. Here it is. You might find this a way to bring a smile to someone you care about, as the story that inspired this portrait did for me.

P.S. Cats, too!
January 30th, 2018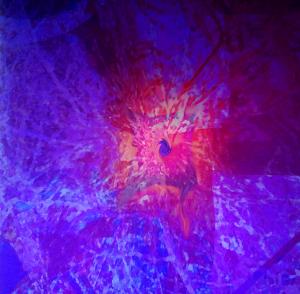 MOUNTAINS AND SUN. (Meditative Art) The graphic here is a print from a large canvas I did a number of years ago where I was trying to work out how angles and circles could not only compliment but complement each other. (Some say this is "new age"/spiritual art) Today, as I look back at this canvas, I am thinking that art invites us to respond and inquire. Whether we are old hands or neophytes, art encourages us to see patterns and relationships within a piece, then to open the window to fresh awareness - even within self- and to turn ideas into reality. In any case, it seems to me that interaction with an expression of life in a "universe in process" can make a deepening of intelligence, and a strengthening of heart possible.

Studio Notes, Zsanan
https://zsanan-narrin.pixels.com/

January 17th, 2018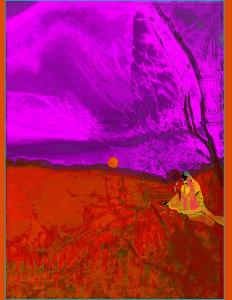 THE SPACES BETWEEN with Zsanan

The wind is howling at the cabin door, but there's a fire inside. This has me thinking about the spaces between the wild and the mild. In art, for example, I wonder if somewhere between major movements -the Impressionists, Post-Impressionists, Fauvists and Expressionists - there are intervals for experimentation.

I like the idea of experimenting with forms and shapes of nature. I'm drawn to simplified, sculptural forms, gently rounded lines. Possibly, this as a phase devoted to the expression of change with compassion, a fusion of realism and abstraction.

In that Space Between one can play with scale, make subjects seem even larger than life, zoom in on a theme, produce a new perspective or understanding. I suspect this will lead to increasingly abstract pieces.... We'll have to see. Stay tuned. Zsanan.

December 16th, 2017



As you move into color there is a sense of space. This is the place of possibility. Bright bits can change and enhance moods.